South Africa has officially opened its latest wind farm – an 80MW facility in Noupoort, the eastern Karoo region.  Situated in the Umsobomvu Municipal Area located 10km east of Noupoort in the Northern Cape, Noupoort Wind Farm spans 7,500 hectares and comprises thirty five 99m-high wind turbines.
All 35 turbines of the R1.9 billion wind farm are now producing clean renewable electrical energy to meet the needs of almost 70,000 average South African households.  Noupoort Wind Farm achieved its commercial operations date on schedule and on budget, according to the projects operator Mainstream Renewable Power.
Mainstream's Group finance director, Terry Ryan, said: "Today is of note because it is the first Round 3 wind farm to reach commercial operation. This is Mainstream's fourth renewable energy project to reach commercial operation in South Africa.
"We also developed and built the Jeffrey's Bay Wind Farm as well as the Droogfontein and De Aar solar power facilities from Round 1. And we're currently building two wind farms near Loeriesfontein in the Northern Cape which are on track to start operating in December next year.
Noupoort Wind Farm is currently implementing various economic development projects, which include Capacity Building for existing and prospective entrepreneurs; local maths and science development programmes that incorporate science and computer labs as well as local Wi-Fi infrastructure.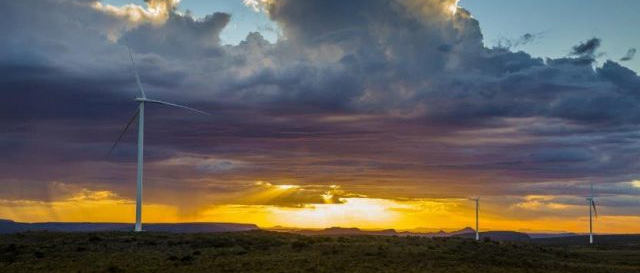 The site was chosen because of its excellent wind resource, its proximity to national roads for wind turbine transportation, the favourable construction conditions, municipality and local stakeholder support, the straightforward electrical connection into the Eskom grid, and studies showed that there would be little environmental impact.
Noupoort Wind Farm will generate around 304,800MWh of clean renewable energy per year and eliminate approximately 300,000 tonnes of carbon emissions each year when compared to traditional fossil fuel power plants.
In addition to zero carbon emissions and reduced use of fossil fuels, the country will benefit from minimal water consumption during the generation process and significant social and enterprise development programmes.
[Source:  http://bit.ly/2cZSF0C]